Hajj Certificate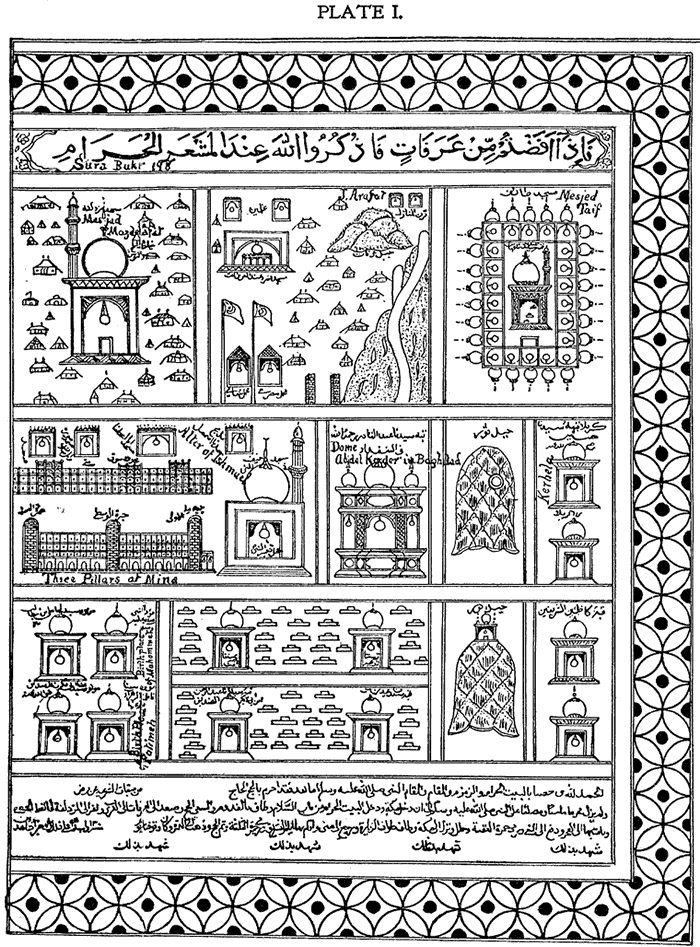 Plate 1
(130 kB)
Source: S.W. Zwemer, Arabia: The Cradle of Islam, 3rd Edition, Fleming Revell Co., 1900, facing p. 40.
PLATE I. has, at the right-hand upper corner, the representation of the Mosque of Muzdalifa and tents of the Pilgrims; to the left of this, the Mosque of Nimr, near Mount Arafat, and below it, the Mahmals of Syria and Egypt, i.e., palaquins carried on camels, surmounted by flags. To the right is Mount Arafat, a sacred mountain about 12 miles northeast of Mecca, which, in Moslem tradition, is said to be the place where Adam and Eve met after the fall. The three pillars of Mina represented below, are ancient pagan shrines, at each of which every pilgrim must hurl seven stones at the devil. Near this is pictured the Mesjed, or Mosque of Taif, the altar of Ishmael, the Dome of Abd-el Kader in Bagdad, and at the extreme right the Dome of "Our Lord" Hassein al Kerbela, where thousands of corpses of deceased Persians are brought yearly to be buried. It is southwest of Bagdad, and lies in Turkish territory. There are also pictured the birthplaces of Mohammed, Ali Ibu Abi Talb, Abu Bekr, and Fatimeh, and the Tomb of Amina and Khadijah; also two bell-shaped hills, Jebel Thaur and Jebel Nur.
Click on the image for an enlarged view
Last edited 12/22/2003
Top of Page.