Hajj Certificate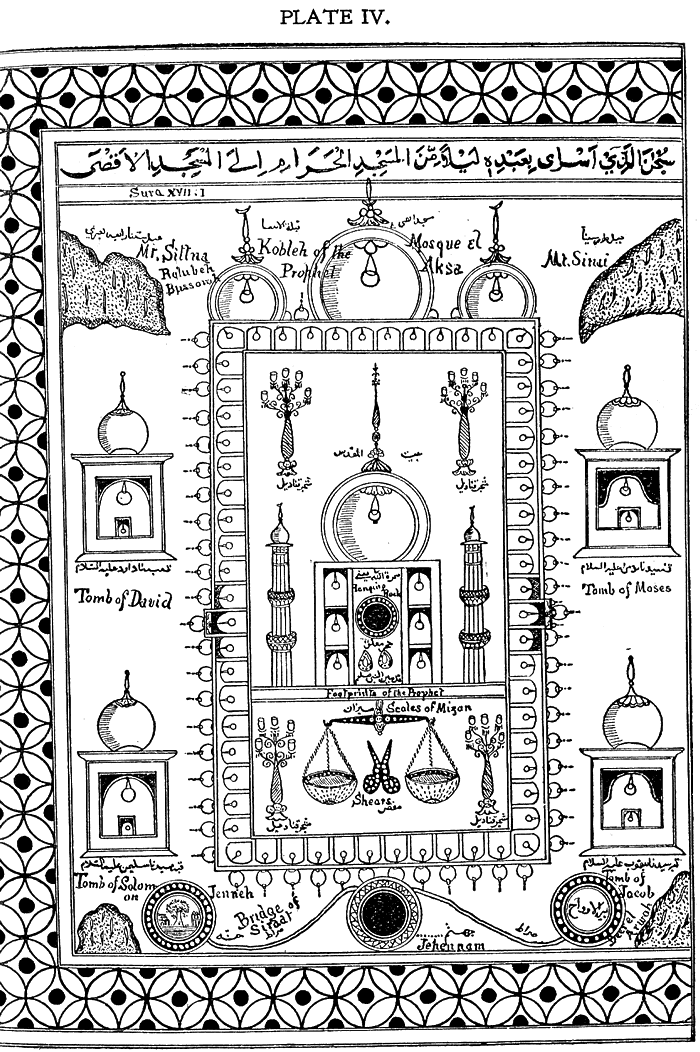 Plate IV
(130 kB)
Source: S.W. Zwemer, Arabia: The Cradle of Islam, 3rd Edition, Fleming Revell Co., 1900, facing p. 40.
PLATE IV. contains the Holy Shrines of Jerusalem. The Haram-es-Sherif, or the quadrangular area once occupied by the temple of Solomon, occupies the centre of the page. The Mosque commonly known as the Mosque of Omar, is here styled "Beit el Mukdas" or the Holy House. Under the dome in the black circle is the "Rock of God," or the "Suspended Stone," which the Prophet kicked back when it tried to follow him to heaven. The two footprints of the prophet are pictured below the rock. Below this are the Scales of "Mizan," in which all men's deeds are to be weighed at the last day, together with the shears which cut off the life of men. At the bottom is the great Bridge of Sirat, of vast length, the width of a hair, and sharp as a razor, over which every mortal must walk barefooted. At the right of it is the pit of Jehennam or hell, and to the left Jenneh or Paradise. A hazardous feat it is to make the journey, since on it depends one's eternal destiny. Around this area are pictured the tombs of David, Solomon, Moses and Jacob, and in the right-hand upper corner is seen Jebel, Toor Sina, or Mount Sinai.
Click on the image for an enlarged view
Last edited 12/22/2003
Top of Page.